Volunteering for Literacy/Education
ROOF Community Services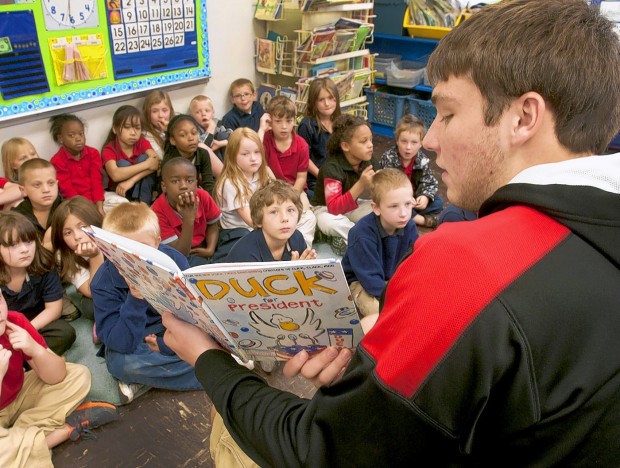 the Rochester area. Be a reading tutor for younger kids, help
with arts and crafts, do light office work, or help at the
Kellie McNelly, Volunteer Director
(360) 273-6375
Tumwater Old Town Center
215 2nd Ave. SW; Tumwater, 98512
www.ci.tumwater.wa.us
Tumwater Old Town Center serves seniors and youth.
Volunteers are needed to mentor kids in grades 3-12 by
helping with homework and doing interactive activities.
Charlie Groth, Youth Coordinator
(360) 754-4160, ext. 264
cgroth@ci.tumwater.wa.us
Big Brothers/Big Sisters of Southwest WA
1802 Black Lk Blvd SW, Ste 102; Olympia, 98512
www.swwabigs.org
Be a positive role model and share your skills by being a Big Brother or Big Sister to an elementary school student. One hour per week commitment for at least one year.
Minimum age is 16 years old.
(360) 943-0409
South Sound Reading Foundation
305 College St. NE; Lacey, 98516
www .readingfoundation.org/ southsound
Travel with the Book Van to community events to distribute books to low-income children; dress up in a Booker T. Bear costume; help with a book drive; and/or read to kids. An application process is required for some activities.
(360) 412-4585
read2me@nthurston.k12.wa.us
Hands On Children's Museum
414 Jefferson St. NE; Olympia, 98501
http://www.hocm.org/
Have fun being a kid again and volunteer at the Hands On Children's Museum! Volunteers work behind-the-scenes, on the museum floor, in our preschool classrooms, and out in the community. There are a lot of volunteer jobs to choose from, with something for everyone.
Addie Jo Rocchio, Volunteer Coordinator; (360) 956-0818 ext. 113; volunteers@hocm.org
Boys & Girls Clubs of Thurston County Lacey/Tumwater/Rochester/Olympia branches
www.bgctc.org
Help younger kids with their homework or help lead games and activities. Lacey: Ask for Shellica or Mo
(360) 438-6811
Tumwater: Ask for Monica or Jesse
(360) 570-8888
Rochester: Ask for Christine
(360) 273-9397
Olympia: Ask for Mike
(360) 556-3615